Have you been searching for secluded beaches near me lately?
For more than two months people have been on stay home orders. During this time most businesses were close except essential businesses and some people are working from home. Recently many states and countries have lifted the stay hame order and some businesses starting to operate as usual.
 As we all know summer is almost here and one of the things people like to do is to go to the beach. Most beaches are open too, we saw a crowded beach in Daytona during the memorial weekend, for some people it was scary because of the COVID-19 pandemic.
So what can you do if you want to take a little beach vacation but you still want to practice social distancing? Luckily, there are many secret beaches to be found in the  U.S, places that you might never hear about it or you don't even know exists. These beaches are affordable and do not require staying at an exclusive private resort etc.
Some of these destinations may not be easy to reach, but gives you a peaceful and pristine beach experience, far from the crowds. Here are some best-secluded and quiet  beaches in the U.S
Carova Beach, North Carolina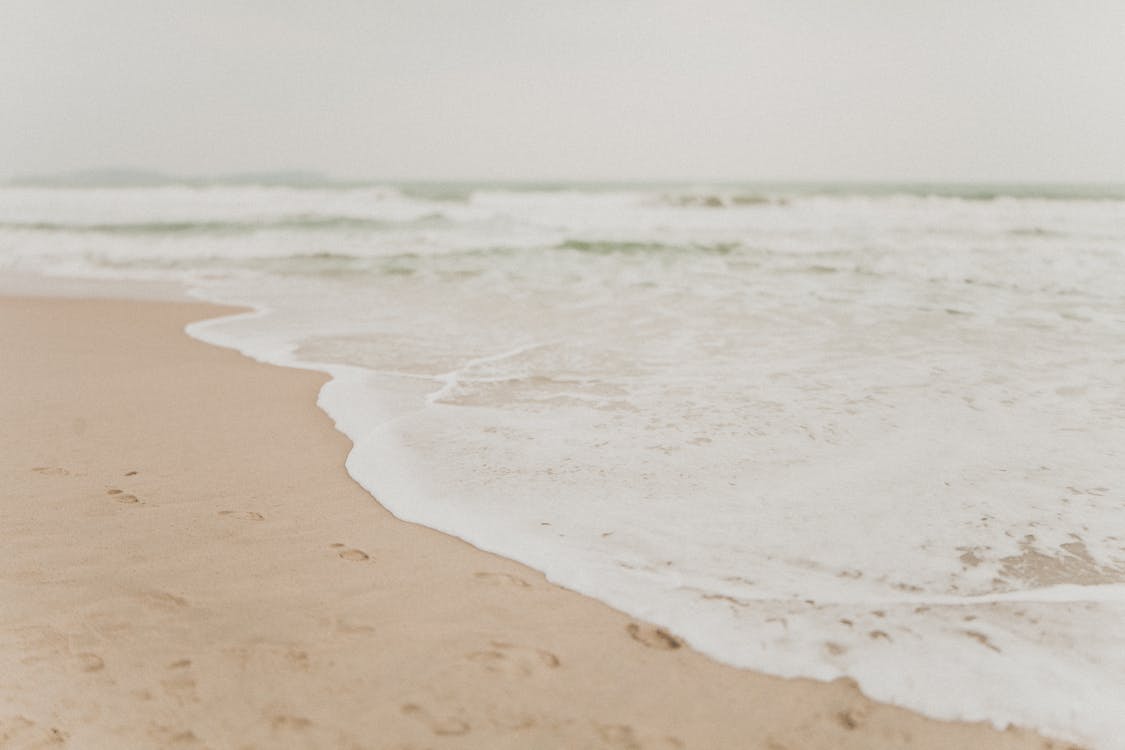 Carova Beach is the northernmost Outer Banks community and is only accessible by the unpaved beach. You will not find paved roads, you will drive mostly in sand dunes which will give you a wonderful experience. 
A four-wheel-drive vehicle is highly recommended when visiting Carova beach. Carova beach requires a  parking permit from the Friday before Memorial Day until  Labor Day. 
Covert Park Beach, Michigan
Covert Park Beach located farther north of lake Michigan shorelines. The beach has placid waters and an undisturbed sandy strip. There is a campground at the park which adds value to the area.  A parking permit is required for visitors.
Cumberland Island Beach, Georgia
You will need to catch a ferry to get to this  Georgia's largest and southernmost barrier island.  You can enjoy your day rest on the sand dunes watching wild horses roaming or explore old Spanish mission ruins and 19th-century homes. Or, just relax by the surf. It's a paradise for a beachgoer who just wants to connect with nature.
Duck Beach, North Carolina
This North Carolina gem can be found in the Outer Banks between Currituck Sound and the Atlantic Ocean. An unspoiled beach destination, Duck offers adventure and relaxation. Visitors will find clean waters and beaches, maritime forests, wetlands, and dunescapes.
Dry Tortugas, Florida
Dry Tortugas National Park is actually one of the country's least-visited national parks. One can argue maybe because its difficult to get there.
The Dry Tortugas beach is only accessible by boat or plane. Its magnificent pristine, blue waters, and white sands it's all worth the hustle of getting there.
There is a lot to enjoy when you get there such as its picturesque blue waters, superlative coral reefs, and marine life, the vast assortment of birdlife that frequents the area. It's also the home of magnificent Fort Jefferson.
Dyer Prince Beach, Massachusetts
This beach with hidden pathways in Eastham shores small with calm waters,  but tidal flats stretch out quite far during low tide.
Dyer Prince is perfect for quality time with family and friends or when you need a break from a busy life and you just want to strategize yourself.
When you are looking for secluded, uncrowded beaches   Dyer Prince Beach is your best-hidden beach. Parking is limited but I'm sure there are some alternatives.
Fort Morgan Beach, Alabama
Fort Morgan is a relaxing getaway to a beautiful beach on the Gulf Coast. It's a very secluded and charming best beach vacations surrounded by the Fort Morgan stone fortress on Alabama's Gulf Coast.
It has a peaceful environment, which is void of commercial property and beach rentals, serves up a view of the Sand Island Lighthouse and ships cruising over to Mobile.
Lovers Key State Park, Florida
If you are in search of secluded beaches in Florida this secluded barrier islands were once reachable only by boat. According to local stories this beach was so isolated that only lovers made the effort to seek out the hideaway.
Today the island strip is more easily accessible, but it still retains a secret feel and has become a  popular romantic destination for spectacular, beachside weddings and frequently hosts picturesque gulf-side weddings.
There are a lot of things to do in Lovers Key State Park, such as kayaking, explore the canals and lagoons.
You may also see the calm, turquoise waters broken by a dolphin's dorsal fin or by the strike of an osprey's talons.
Montaña de Oro State Park, California
The park features secluded sandy beaches, coastal plains, streams, canyons, and hills, including 1,347-foot Valencia Peak. Good for nature lovers, they will enjoy the solitude and freedom found along the park's trails.
There are also mountain biking and equestrian trails. The best-known beach is Spooner's Cove, across from the campground. 
There's wildlife in the park that includes black-tailed deer and the black oystercatcher. The park also includes primitive and equestrian campsites.
It's a nice place when you want to leave crowds and noise behind, and enjoy the quiet coastal trails that lead down to the water.
Point Sal State Beach, California
Located in the northwestern part of Santa Barbara County, near the city of Guadalupe it's one of the state's most beautiful beaches, and one of the most scenic and least-visited. 
The  Point Sal includes about 80 acres and just over 1½ miles of ocean frontage. The Point Sal views will take your breath away. Lion Rock, located offshore, is an important bird-roosting site and is also used by sea lions and other marine mammals.
There are some activities that can be done while you are there such as fishing, beachcombing, hiking, nature study, photography, picnicking, and sunbathing. 
Swimming is not recommended due to extremely dangerous rip currents, occasional shark sightings, and the absence of Lifeguard service.
Roque Bluffs Beach, Maine
This is one of the most secluded beaches in the U.S. It Is not well known by many people that's why it offers you a private utopia to watch the sunrise. It's a perfect gateway from a busy life. 
You can enjoy chilly water laps on the shores of Roque Bluffs, a half-mile stretch that shoulders Englishman Bay. There is a lot to do while you are there such as bird watching, enjoy interesting sightings at all seasons.
Bald eagles frequent the area year-round and many migrant species stopovers during spring and fall.  Also, you can be kayaking to explore both Englishman Bay and Simpson Pond.
The  Simpson pond is stocked so anglers you can fish for brook trout in the spring and brown trout through much of the summer. 
Rockport Beach, Texas
This small-town of  Rockport, Texas might not be the first place that comes to mind when you think of beaches but you might change your mind when you get tome to explore Rockport beach. 
Rockport beach is the first Blue Wave Beach in Texas, it offers a healthy, safe, and clean environment and a lot to do activities. 
It offers clean play areas for the kids and a saltwater lagoon for swimming. There are several neighboring piers that offer fishing opportunities. 
Salt Creek Beach, California
The popular beach park located in Dana Point, California, it features amenities such as a half-court basketball court, beach volleyball,  and offers opportunities for surfing, swimming, and fishing.
Overlooking the Pacific Ocean, the beach serves up brag-worthy views, and the sandy strip is large enough space not to worry about sharing elbow space.
Sandbridge Be
ach, Virginia
Sandbridge Beach is a short drive south of the Oceanfront District, It is a secluded beach hideaway of pristine sand dunes and dancing sea oats.
It is a relaxing and peaceful community where you can truly slow down and unwind on your vacation. You can enjoy the view of the Atlantic which never fails to entertain. 
Also, it is a good place for outdoor lovers, they can enjoy kayaking, hiking, fishing and many more. 
Sunset Beach,  North Carolina
Located in the southern-most Brunswick Islands beach, its the best place when you want to gateway from the crowd. Sunset Beach was recently included on National Geographic's list of 21 Best Beaches In The World, It has beautiful nature and offers amazing breathtaking views.
While there you can also enjoy the stunning  Bird Island Reserve, which features pristine sandy white beaches, high natural dunes, and tidal creeks. 
You can take uninterrupted evening walks by boardwalks or biking and surfing in the waters. If you are not into those kinds of activities you can collect shells while reconnecting with the natural world and enjoying nature.