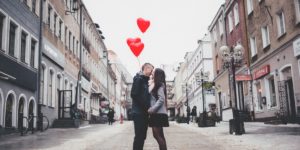 Are you wondering what can be a perfect valentine gift for your loved one who happened to be a traveler? Most people find it hard to pick a gift for someone who likes to travel. It doesn't matter what type of traveling they do, but there some essential things they will always need or they will prefer to have on their trips. Here are some ideas for what you can buy for your loved ones and what's good about this list it can be either for him or her.
1:World Map Wood Phone Case.
This World Map High-quality uniquely engraved wooden phone case will protect your phone from damages. Made with a state-of-the-art laser machine that produces sharp detailed images. You can easily use the buttons on the side of the phone, also there is raised lip to protect your front glass screen.  The case comes with 9H Glass Protector to make your case a total protective case along with being unique. 
It made with  100% Natural Real Cherrywood front, which is the finest wood that makes these cases look great.

Engraved with state-of-the-art latest USA technology, are relatively slim and lightweight, and a totally protective strong case.

Rubber bumper TPU that travels around the entire case protecting your phone should it be dropped.

The raised lip protecting the front glass screen and our case includes a Strong 9H protective screen cover.

This is good for travelers because keeps your phone safe and also the world map decor is even better because it can bring some kind of joy to a traveler.
To buy : amazon.com
2: 

3-in-1 International Travel Adapter Wireless Charger Power Bank

.
 This is a very essential product especially traveling overseas.  It's a multipurpose supercharger with QI wireless charger, a portable phone charger, and a travel charger all of this integrated into one that can be used in over 150 countries. It offers a quick, reliable, one-stop solution to all the charging needs for all your devices anytime, anywhere. 
 The good thing about this product is that, it can charge your smartphones, smartwatch, tablets, cameras, headphones, Kindle, iPad, Go Pro, PS console and much more. It can also charge 3 devices at the same time and it's compatible with all platforms like Apple iOS, Samsung Android and Windows.
It has a universal adapter which comes  4 removable wall plugs compatible with USA, UK, EU, AU, and other countries worldwide with the highest standard of safety plus durability.  The portable power bank is small and compact so you can slip it into the pocket to charge your typical smartphone anytime on the go. It features a convenient numerical led so you know how much % power you have on hand. It is ideal for travel, vacations, emergency, camping, hunting, etc.
To buy: amazon
3:

SkyGenius 10 x 50 Powerful Binoculars for Adults.
These are  Professional Powerful Binoculars designed with 10X power magnification, 50mm large objective lens and 367ft/1000yds large field of view good for fast-moving subject, are ideal for bird watching, hunting, driving, sports events even stargazing. It has a weak light vision with quality optics design of aspherical lenses and multi-layer coating guarantee excellent light transmission and well improves image brightness, contrast, and quality. It can be used at night, but not in complete darkness. Suitable for concerts, opera, sightseeing, and astronomical viewing.
They are very durable, solid and anti-slip grip. Built with odorless rubber armor for shock-resistance and Anti-slip grip, making it not only in the decent appearance of more wear-resistant and moisture-proof but also perfect for outdoor activities such as climbing, hiking, traveling, watching wildlife and scenery.
It has a corrective optical coating which is good for color fidelity and minimizes distortion and also makes it very easy to focus. The Diopter System on it is adjusting the imbalance vision of both eyes. The smooth and large center focus knob makes it simple to operate and easy to focus. These binoculars are adaptable to a tripod that means you can use a tripod if you tired holding them.
The eyecups are adjustable, the rubber covered eyepiece can be twisted up and down for different people adjusting a proper eye relief. They are good for eyeglass wearers because they can adjust eye relief through rising eye cups and feel more comfortable.
To buy:  amazon
4:

Canon PowerShot SX730 (Silver) Digital Camera with 32GB SD Memory Card + Accessory Bundle.
This is a very good camera because of its specs and size especially when you travel and don't need to carry many heavy pieces of stuff. This Canon digital camera has  20.3MP 1/2.3″ CMOS Sensor, DIGIC 6 Image Processor, 40x Zoom Lens, 24-960mm (35mm Equiv.), 3.0″ 922k-Dot 180° Tilting LCD, Full HD 1080p Video Recording at 60 fps, Intelligent IS Image Stabilization, Built-In Wi-Fi with NFC and Bluetooth
It has 32GB Ultra Class 10 SDHC Memory Card which is twice as fast as ordinary SDHC Cards. This function allowing you to take pictures and transfer files quickly. Also comes with an extra battery, AC/DC Car Travel Charger
It also comes with a deluxe camera case with Sleek design, Sturdy construction, Removable shoulder strap, Webbed side & back pocket + Flexible Spider Tripod provides flexibility and grip ability, allowing to stabilize your digital camera on almost any surface. USB SD Card Reader with maximum performance. Backward compatible with USB 2.0 hosts + 5pc Starter Cleaning Kit with Lens Cleaning Solution, Cleaning Cloth, Small Tripod, 2 Screen Protectors, Memory Card Wallet, 5 Buds + Lens Blower Brush.
5:

TOZO T6 True Wireless Earbuds Bluetooth Headphones Touch Control with Wireless Charging Case.
These wireless earbuds Bluetooth headphones have the most advanced Bluetooth 5. 0 technology. TOZO T6 Support HSP, HFP, A2DP, AVRCP. It provides an in-call stereo sound. It also owns fast and stable transmission without tangling.
 TOZO T6 Offers a Truly Natural, Authentic Sound and Powerful Bass Performance with 6mm Large Size Speaker Driver. It's easy to pair them up,  just pick up 2 headsets from the charging box they will connect each other automatically just make sure the Bluetooth is on.
 Nano-coating makes Earbuds and charging case to be waterproof for  1 meter deep for 30 minutes. It is suitable for sports to prevent water or even unexpected rain.  Ideal for sweating it out at the gym. Even Wash the earbuds and base.
  TOZO T6 wireless earbuds can last for over 6 hours' playtime from a single charge and 24 extra hours in the compact charging case. Charging case support wireless charging. Providing a convenient charging way with no strings attached. There can be also charged on the go.
To buy: amazon 
6:

Refillable Leather Journal Travelers Notebook.
This is a very nice journal for travelers. It has a  compact, and more portable design, these leather journals are made for keeping you organized wherever life takes you. Use it for daily reminders, as a personal diary, as a quick sketchbook, and more
The rich, genuine leather is soft, thick, and creates a naturally distressed look the more you use it. This gives it a unique feel and exclusive look that's sure to add warmth and style to both men's and women's lives
It comes with 96 double-sided sheets of paper, a Kraft folder, and a zipper pouch. They also come standard with a pen and pen holder, as well as a binder clip, for quick convenience. The journal features 4 elastics on the spine for quick accessory access, as well as the ability to add 8 inserts to suit your specific personal needs. Great for creative people who need room to grow, for travelers who like to document their experience in different places, also might be useful for bloggers.  The good thing about journal it can be an all-purpose as a journal, diary, and scheduler for modern, on-the-go lifestyles, these notebooks is very useful for busy travelers, serious business professionals, and parents who just need a little space to stay organized.
To buy: amazon
7:

Leather Journal for Women – Beautiful Handmade Genuine Leather Bound Notebook with Embossed Heart Cover.
This vintage handcrafted journal is made from 100% soft, hardwearing water buffalo leather. With rustic charm, as well as that gorgeous leather smell, the antique-looking style gives it an old-world feel to help inspire your writing. This will be perfect gift writers and can also be used to draw and sketch to your content on the 120 off-white blank unlined sheets. 
It comes with a  Fountain -Pen friendly paper that won't bleed- through. The 125gsm paper takes pen or heavy pencil beautifully and is thick enough to prevent any bleed through.  Unfortunately, these journals are not refillable. It can be easily carried because it fits in most purses, backpacks, and totes. The strap keeps your personal planner closed which makes it perfect for writers, travelers and journalers traveling on the go.
To buy: amazon
8:

Tile Pro (2020) – 2 Pack.
This new Tile Pro is the most powerful Bluetooth tracker; is good for those who value high performance, durability, and strong design. You can ring your things using your smartphone so when you misplace these things within 400 ft Bluetooth range, Tile Pro will help you to find them. It's very helpful when you misplaced your cellphone, all you need to do is simply double press the Tile button on your Tile to make your phone ring, even when it's on silent.
 You will need to download the Tile app, which will help you to see where you left your phone, etc on the map.  This because it remembers when and where you left something behind.  Another incredible thing if you lose your Tile, you can use Community Find. With the Tile community finds you can anonymously recruit the entire Tile community to help you find it; The Tile app running on their phones will send location updates to your app, letting only you know where your Tile Pro is.
To buy: amazon
9:

BUBM Cable Organizer Bag 3pcs Electronics Travel Organizer.
This 3 set organizer has 3 different sizes to provide great organization options for packing things and keep all of your electronics accessories together. Especially designed for travel. It has enough space for cables, external drivers, chargers, batteries, flash drive, basic first aid items, CF cards, game cards, passport, mobile phones, personal toiletries.  It also has Mesh pockets for iPad or iPad Mini or tablets.
The Padded interior and detachable dividers offer excellent protection for your gadgets. The detachable padded dividers make it easier to customize the space to sort and organize your things such as makeup, toiletries, and electronics. There is zipper closure to ensure your item securely. This organizer is made of durable and waterproof heavy-duty PVC material, scratch-resistant.
To buy:  amazon