Ark Encounter is a  theme park located in Williamstown, Kentucky, in the United States. The main attraction of the park features a full-size Noah's Ark, built according to the dimensions given in the Bible. Spanning 510 feet long, 85 feet wide, and 51 feet high, this modern engineering marvel amazes visitors young and old.  
How much does it cost to get in the Ark Encounter?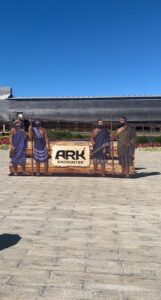 There are different ticket prices to get to the par and activities. There are One-day tickets that cost $54.95 for adults (ages 18-59), $44.95 for seniors (ages 60 and older), $24.95 for youths (ages 11 to 17), and children under 10 are free.
The theme park also offers different combo ticket options such as three-day and annual passes that offer special parking options. Tickets are available online and at the park. 
When you arrive, you will take a shuttle from the parking area to the ark location which is a mile away from the parking lot and visitor center.
Parking costs are $15 for standard vehicles and $20 for oversized vehicles. Parking is also available for RVs and motorcycles, but it is not allowed overnight.
How long does it take to walk through the Ark Encounter?
The ark has three decks,  visitors will start to enter on the lowest deck and move between decks on ramps constructed through the center of the ark. There are132 bays, each standing about 18 feet those bays are arranged in three decks.  
You will need approximately 3 – 4 hours to walk thru the Ark Encounter. The first deck contains models of some animals that are believed could have been on the ark, but there are no live animals within the exhibit.  The second deck contains more animal models, along with dioramas of Noah's workshop and a blacksmith.  
The third deck contains displays presenting what is believed might have happened inside and outside the ark during the flood.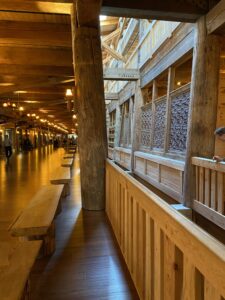 The Ark has State of Art Exhibits, the living quarters where you can find out how Noah and his family might have lived on the Ark from cooking food to sleeping, recreation, and even gardening.
The Ark Encounter also has a variety of events to enhance your visit, from daily speakers, live animal encounters, the creation museum, and movie presentations to concerts in the Answers Center 
Things to do at ark encounter
Besides the Ark Encounter itself, there are a handful of other attractions within the theme park.
The Ark Gift Shop
The gift shop is located on the lower level of Ark.  You can find some souvenirs to remember your Ark Encounter experience for years to come. Explore a wide range of books, DVDs, apparel, stuffed animals, and handmade gifts.
There is something for everyone inside the gift shop. While you are inside the shop you can enjoy a sweet treat from Uncle LeRoy's Fudge,  or enjoy a coffee or hot chocolate from Kezia's Coffee.
Emzara's kitchen
Emzara's Kitchen is a two-story, buffet-style restaurant with a capacity of 1,500 guests, making it one of the largest restaurants in the world. There is a variety of delicious hot entrees, salads, and desserts including food-allergy sensitive options.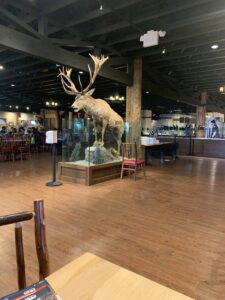 You can enjoy a spectacular view of the Ark when you grab something to eat before or after you board. The restaurant opens  Sundays:  from 1:00 p.m. to 6:00 p.m. and Monday to Saturday from  11:00 a.m. to 5:00 p.m.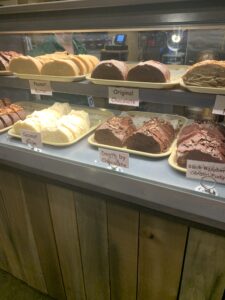 Buffett  prices are as follows  adults and youth(age 11-59) $16.99, Seniors (age 60+) $14.99, Children (age 5-10) $8.99  and 4 and under(age 0-4) Free.
Ziplining
For those who like adventure, the zipline is something you don't want to miss at the Ark encounter.  There are several activities, all overseen by trained staff and held to high standards of safety..For everyone's safety, there are requirements that must be met such as age, weight, and health limitations which vary between activities.
Virtual reality theater-Truth Traveler
Located outside the Ark, the virtuality reality theater shows the Truth Traveler's A Flood of Reality is a totally immersive 4K virtual reality experience that will feel like a "ride," though you will be comfortably and safely seated in MX4D  Motion EFX Experience seats while wearing a state-of-the-art VR headset.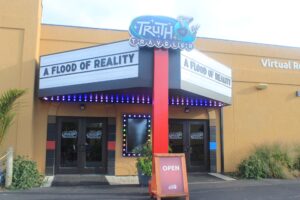 Your seat will move and provide a variety of special effects in coordination with what you see and hear in your VR headset. Enjoy the Truth Traveler time machine and journey back to the time of Noah in an immersive virtual reality experience, you will witness the building of Noah's ark, experience the flood, venture inside the ark with the animals, and more exciting surprises along the way.
The  Flood of Reality VR experience shows throughout most of the day. Separate timed tickets are required.Tickets prices are Regular (ages 11+): $14.99 Children  (under 10): $9.99 .Tickets can only be purchased onsite at the Ark Encounter's Truth Traveler building. Due to high demand, they recommend you purchase your tickets and secure a time for your VR experience soon after your arrival.
Ararat Ridge Zoo
If you are an animal lover, don't miss the opportunity to visit animals of all shapes and sizes at the Ararat Ridge Zoo. It's a fun place for all ages and provides biblical teaching on the animal kingdom. 
At Ararat Ridge Zoo, you'll encounter mammals, birds, and reptiles from every corner of the planet. There are a lot of zoo activities such as animal encounters, keepers chats, camel encounters, camel rides, and kangaroo walkabouts.
The zoo, petting area, kangaroo walkabout, and animal shows are included with Ark Encounter admission. Camel rides and camel encounters have an additional cost.
All in all the Ark Encounter is one of the must-visit, it's a good place for family and friends to enjoy.
Directions to The Ark Encounter