Atlanta is the capital and most populous city of the U.S. state of Georgia. It is the eighth most populous city in the Southeast and 38th most populous city in the United States according to the 2020 U.S. census.
Atlanta is home to major attractions in the U.S such as the Georgia Aquarium, World of Coca-Cola, Atlanta botanical garden, and many more.
Every place you go there are the goods and bad so we will try to analyze our experience, and we are sure everybody has a different experience. 
We will go over our experience with attractions, transportation, restaurants, etc. We spend  4 days it was labor day weekend from Saturday to Tuesday.  We did have time to explore the city and have some opinions, without further due let's start.
So How can you spend 3 or 4 days in Atlanta?
Traveling to Atlanta For Two
We flew to Atlanta on Saturday, as usual, Hartsfield-Jackson Atlanta International airport is always busy no surprise this airport has been ranked as the world's busiest airport by passenger traffic since 1998, briefly losing its title in 2020 due to the effect of the COVID-19 pandemic in the United States and regaining it in 2021.
After we landed it took us about one hour to get out of the airport, yes from our gate to pick up our checked-in luggage and to the parking lot.  Well, we didn't have any issues at the airport but it was a long walk. 
We didn't do rental reservations, so we used uber to get around which was kind of expensive, according to our hotel receptionist he said its because there was a lot going on in the city, there was a baseball game, college football, concerts, and pride parade all this on one weekend.
The Best Attractions and Sightseeing In Atlanta
Atlanta has a lot to offer when comes to attractions and sightseeing. There are a lot of things to do around the city. For us, this was the best part of the trip because we were able to enjoy it even though was crowded.
We were able to visit the Georgia Aquarium, The World of Coca-Cola, the Atlanta botanical garden, Centennial Olympic Park, Martin Luther King Jr National Park, Ponce city market, and the College Football Hall of fame (we were lucky because it was free that weekend).
Another thing we did was a hoop in Skyview Atlanta. Everything was great in these places the only issue was the crowd was big. 
Georgia Aquarium
The Georgia Aquarium is one of the largest aquariums in the world and it houses more than 20,000 marine creatures. It is located in Atlanta and it is open daily from 9am to 5pm.
How Many Whale Sharks Are In The Georgia Aquarium?
There are currently four spotted whale sharks in the Georgia Aquarium, in the aquarium's Ocean Voyager gallery. The whale sharks at the Georgia Aquarium were all born in captivity. The aquarium also houses other types of sharks like sandbar sharks, pacific blacktip reef sharks, and more.
The World of Coca-Cola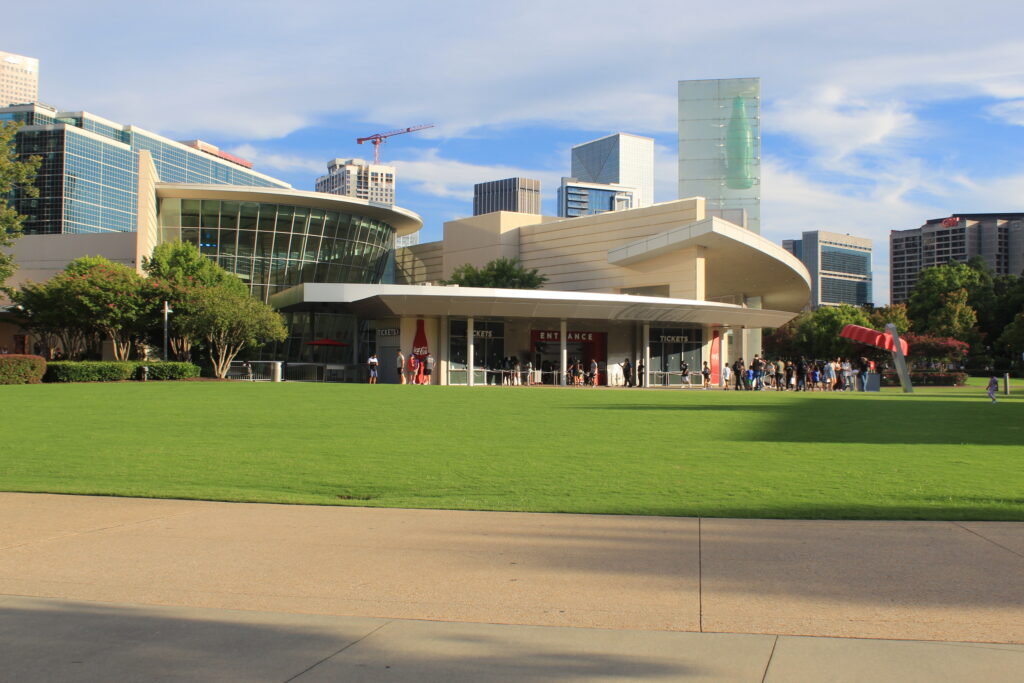 The World of Coca-Cola is an interactive museum that offers visitors the opportunity to explore the history of Coca-Cola and its impact on global culture.
Visitors can learn about the company's history through interactive exhibits and see how it has evolved over time. They can also sample different types of Coke from around the world or enjoy a meal at one of the restaurants inside the building.
The Atlanta Botanical Garden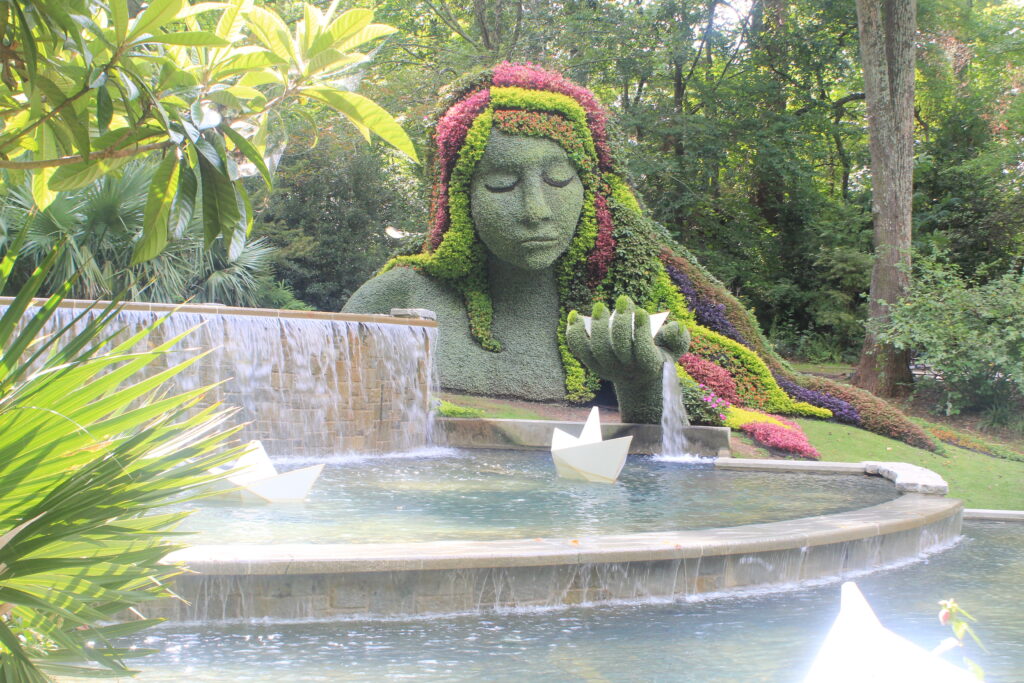 The Atlanta Botanical Garden is a botanical garden in the city of Atlanta, Georgia. It is located on 13 acres in Midtown, adjacent to Piedmont Park. It would take you about 2 hours to walk through Atlanta Botanical Garden.
When is the best time to visit Atlanta Botanical Garden?
The best time to visit the Atlanta Botanical Garden is in the springtime when the flowers are in bloom. The gardens are also open during the summer and fall, but the heat can be oppressive and the crowds can be larger.
If you do visit during the summer, try to go early in the morning or late in the evening, when it is cooler.
Winter is a beautiful time to visit the Garden as well, although some of the outdoor areas may be closed. The indoor conservatory is always open and is a great place to escape the cold.
Keep in mind that parking can be difficult, especially on weekends, so plan accordingly.
How many lights are at Atlanta Botanical Garden?
The Garden's Holiday Lights display is one of the most anticipated events of the year. Visitors can stroll through gardens transformed by more than 2 billion lights. The Lights display runs from mid-November through January.
Martin Luther King Jr National Park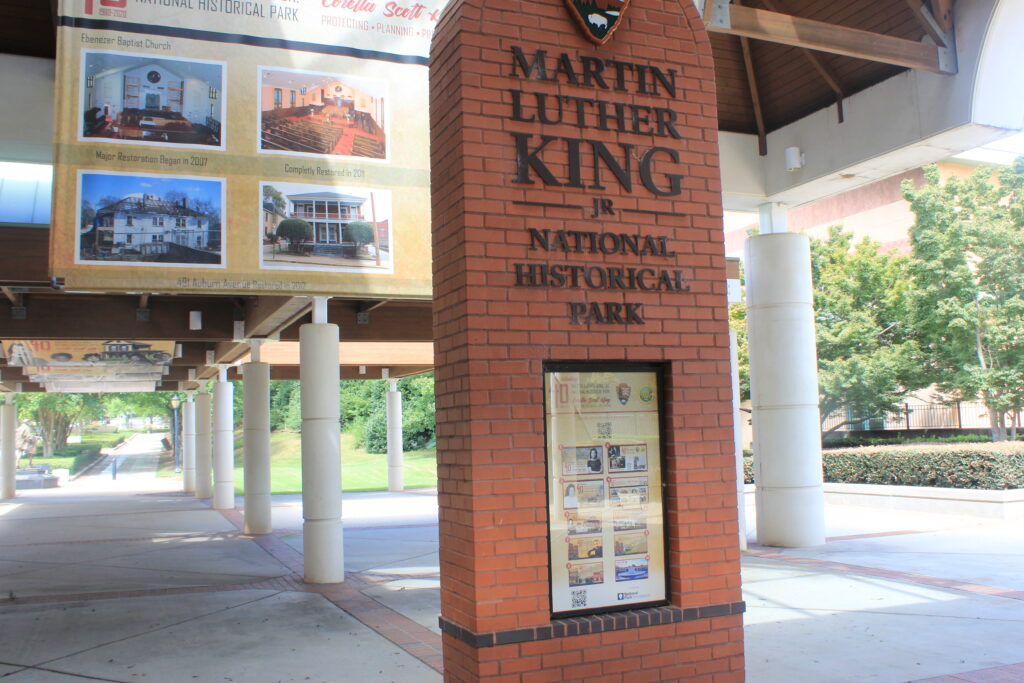 The Martin Luther King Jr National Park is a national park in the United States that commemorates the life and work of Dr. Martin Luther King Jr.
CNN In Atlanta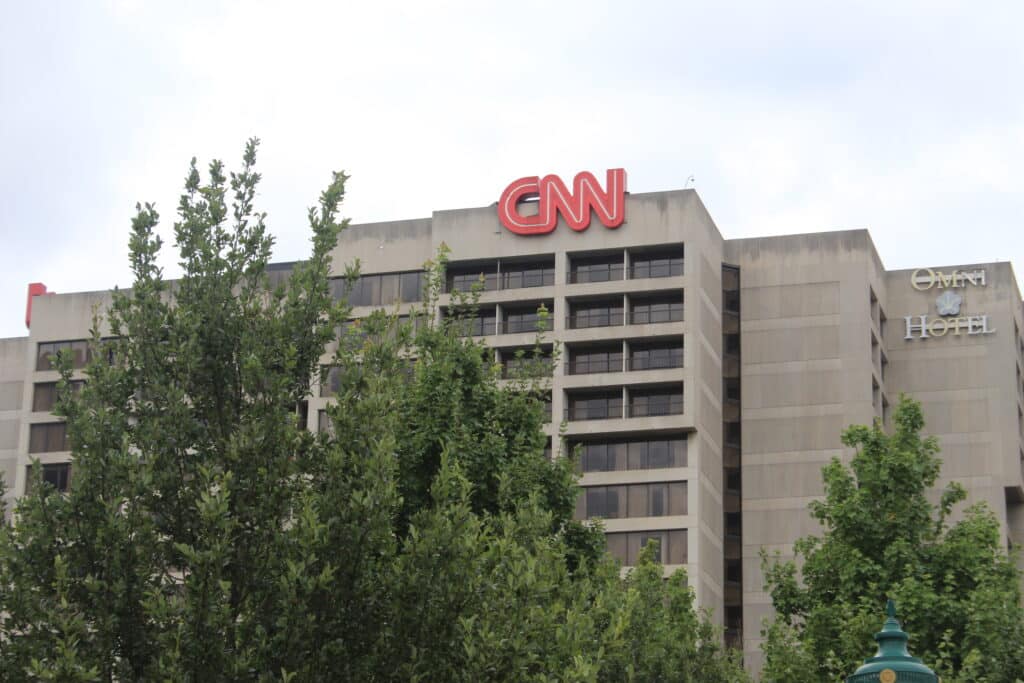 The College Football Hall of Fame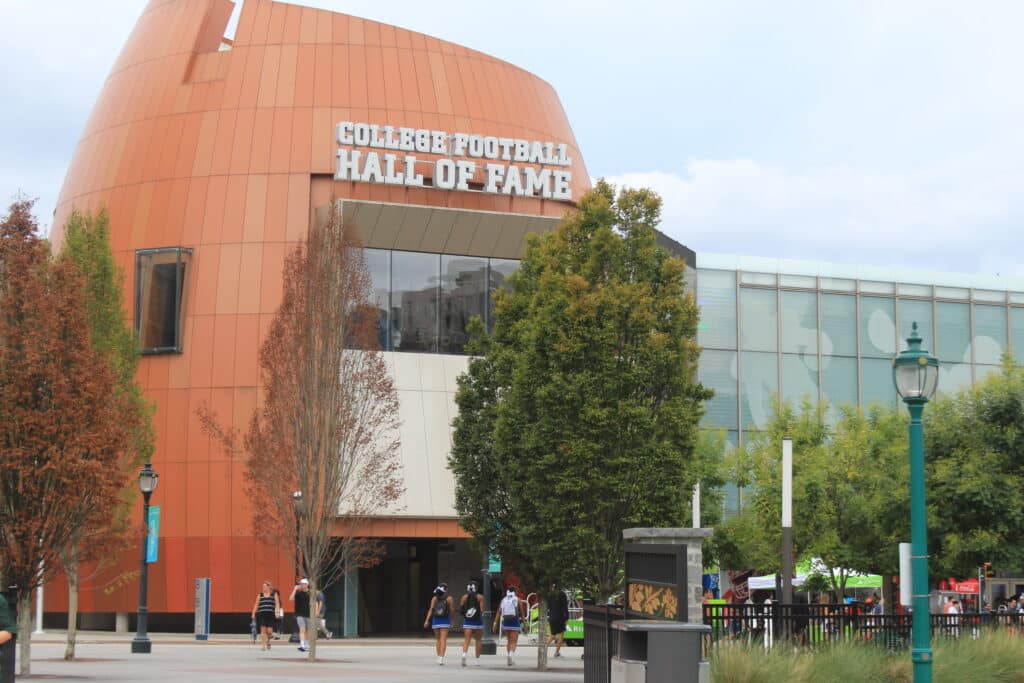 What is the best place to eat in Atlanta?
This is where we had a major issue. Usually, when we travel in different cities we like to try new restaurants that are not in our city or not chain restaurants that are a  no, no.
So we usually take recommendations from yelp, TikTok, or Instagram, and we go from there. But recently most of our recommendations come from TikTok.   TikTok never failed us(lol)  but this time we were surprised at how things turned out. 
Southern Fire Kitchen In Atlanta, GA
Our first restaurant was  Southern Fire Kitchen. We saw this restaurant on TikTok. The food looks really good so we thought why not give it a try? According to the restaurant website, it shows it opens at 4 -11:30 pm no reservations are required.
So we decided to go around 8 pm it was a little bit far from downtown.  We arrived there the restaurant was at the strip mall and was giving a nightclub vibe, we did not expect that.
Then we saw a long line outside and we proceed to the staff/receptionist who was outside and asked if we can get in or what are the procedures to get in. To our surprise, the lady told us the waiting list is full and they are closed.
We didn't get that because the restaurant website showed it closes at 11:30 pm and we didn't need any reservations. So we didn't really know what is going on. 
As I mentioned the restaurant was at the strip mall so people were waiting outside some in their cars so is kind of uncomfortable if you are from out of town or not used to the area. We did not get a chance to get in and we think that was misleading and poor customer service on their part.
Lily's Restaurant & Lounge
Well, we still wanted to eat, so we take a look at our list and see if we can find something close to that area.  Then we found a restaurant calls Lily's,  the picture, environment, and food look good, but we decided to call before going so we don't waste our time.
We called and the lady say we can't make a reservation we can get there and wait to be seated we asked how long is the wait. She said she can't tell but usually is 30 minutes, we are like okay since there is a place to sit, and maybe we can have a drink while we are waiting.
Well, we got there was crowded and again it gave us nightclub vibes. There was a bouncer outside who asked us if we have a reservation, and we explain what we have been told over the phone.
The bouncer told us to wait so he can check with the receptionist, then he came back and say the wait is 1-2 hours and there is nowhere to sit if we want we can try the nightclub upstairs. 
My question is why the lady who spoke to us did not tell us all this over the phone when we call? We were more than disappointed. At this time we were so tired from all this and went back to the hotel.
Atlanta Breakfast Club
Well the next day, still on our tour we said let's go for brunch since we have plans to visit the Georgia Aquarium we decide to search for restaurants around that area that's when we saw Atlanta Breakfast Club.
The food looks good but the place was parked and we arrived at  10:30  we were  #137 on the waiting list at around 2:17 pm we received a text that our table now is ready, and we were long gone.  We couldn't wait that long because we had some other things to do and places to be. 
So next door to Atlanta Breakfast Club there is a restaurant that has brunch too its called Suite Food Lounge, so we decided to take a shot.  Well, we went there and we encounter two bouncers who asked for our IDs and search our purses.
We were kind of shocked most of the restaurants we visit they have to strip-search us and show our IDs, which was new to us we never experience that in any other cities we traveled to.
We get in and ordered our food which was okay not wow.  Another thing we experience is that in every restaurant there is shisha. This is new to us because we midwesterners have not seen shisha in a regular restaurant. 
We did not say there is no shisha in the midwest, is just not regular at the restaurants, the restaurant might have shisha but they have a designated section for that.  Another thing we experience is that when a bill comes they already add tip/gratuity on your total bill so if you add tip you will be paying twice.
BQE Restaurant
On another day we want to have dinner at a fancy bbq/ soul food restaurant so we did our search then we came up with BQE Restaurant, we browsed the website, and the restaurant had a reservation policy that we read and follow. Then there is the dress code etc. We were so excited now we are going to some decent place. 
So we made our reservation and then we went. When we get close by according to GPS the environment was not giving like we are going somewhere fancy, the place look off and we checked the address it was correct.
We got there were homeless people sleeping or sitting around, they didn't have parking if they did was maybe behind the building which we didn't even want to get there.
We were curious to see inside because what we saw on the website was totally different from what was in front of us. We walked to the door here we go there is a bouncer ready to check our IDs and search our purses by this time we know the routine. 
So we got in omg it was totally different nothing looks like their website it took more than 10 minutes for a waitress to come and take care of us, we were hungry so we said let's order we ordered some food which looked like was not cooked there,  the food came before drinks not only that the food was served with disposable silverware/utensils that were enough for us, we feel like we got robbed.
Conclusion
Usually, when we travel we like to visit some places we saw on social media, tv shows, etc. Most of the time they have been exactly like what we saw or imagined but Atlanta was the opposite we feel like scammed, and what you see on a website or social media is not real life.
But we did enjoy the attractions and we were able to go to  Atlanta Breakfast Club which we really like the brunch was worth waiting for. Atlanta Breakfast Club is the only place we did not see on social media we just found it while we were there.
They have good customer service and there was some entertainment while we were waiting outside. And for our last dinner, we didn't t wanna encounter another situation so we ended up at Fogo de Chao, and was nice.